NEWS

Nora and Iina Talk about the Project
Presentation + Discussion by the Artists

Sunday 29th of June, 2014, 2 to 4pm

Admission free

Venue:Kyoto Arts Center
546-2 Yamabusiyama-cho, Muromachi-dori Takoyakushi-sagaru, Nakagyo-ku, Kyoto
http://www.kac.or.jp

This program is held while Nora Chipaumire visits Kyoto for a few days in June 2014.

Born in Zimbabwe, Africa, and currently based in New York, the up and rising choreographer and dancer Nora Chipaumire visits Kyoto in June 2014. Nora and Iina Naoto, the authors of the two piece of this project, will be making a presentation on their work. We would like to invite theater directors, playwrights, choreographers, dancers and actors, and anybody who is interestedin the performing arts, please join us and get to know the artists.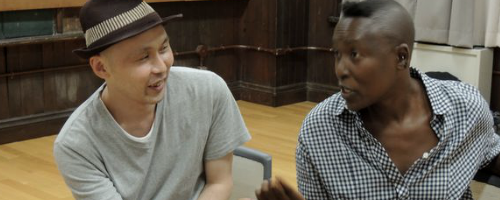 [Artists Bio]
Choreography and Dance / Nora Chipaumire
Born in Mutare, Zimbabwe and currently a resident of New York City, Nora Chipaumire has been challenging stereotypes of Africa and the black performing body, art, and aesthetic for the past decade. She has studied dance in many parts of the world including Africa (Senegal, Burkina Faso, Kenya, and South Africa), Cuba, Jamaica and the U.S. A graduate of the University of Zimbabwe's School of Law, Chipaumire holds an M.A. in Dance and M.F.A. in Choreography and Performance from Mills College (CA). Ms. Chipaumire is a 2012 Alpert Award in the Arts recipient and 2011 United States Artist Ford Fellow. She is also a two-time New York Dance and Performance (aka "Bessie") Awardee: in 2008 for her dance-theater work, Chimurenga, and in 2007 for her body of work with Urban Bush Women, where she was a featured performer for six years (2003-2008) and served as Associate Artistic Director (2007-2008). She is the recipient of the 2009 AFROPOP Real Life Award for her choreography in the film, Nora. She has also been awarded the 2007 Mariam McGlone Emerging Choreographer Award from Wesleyan University Center for the Arts, and a MANCC Choreographic Fellowship in 2007-2008. Recent works include rite riot (2013) Miriam (2012) The Last Heifer (2012)

Written, directed and film / Iina Naoto
Director, video artist. Aiming at linking the performing arts and media arts, Iina has established Dance and Media Japan to produce many projects combining media technology with dance inviting artists from overseas such as "Gaga Japan", "Mamuska" art party from Ireland, the International Dance Film Festival, and the Post Theater from Germany among others. Iina's work covers a wide range from video artist to theater director, dramatuge and producer. As video artist, he has worked for The Spirit Play and King Lear, both directed by Sato Makoto, and Kawguchi Takao's a perfect life, and as dramaturge for Kawaguchi's About Kazuo Ohno. He has directed ASYL combining film, music and dance starring Nishimatsu Fugin and Terada Misako; and Shinobazu no Onna starring Nishimatsu and Ohno Yoshito, among many others.




Male and Female Bodies in Nihon Buyo,
the Japanese Traditional Dance
A presentation by Choreographer/Dancer Yokoshi Yasuko

Friday, 27th of June, 2014, 6:00 to 7:30pm

Venue:Kyoto Arts Center
546-2 Yamabusiyama-cho, Muromachi-dori Takoyakushi-sagaru, Nakagyo-ku, Kyoto
http://www.kac.or.jp

Admission free

The presentation will be mainly in English. The introduction and Q&A can be also in Japanese.
This program is held while Nora Chipaumire visits and Kyoto for a few days in June 2014.

While staying in Kyoto for this project, Nora Chipaumire wishes to learn about the spirit and techniques of Japanese traditional performing arts in order to explore the female body dancing in male characters for her own work. Yogoshi Yasuko, choreographer also based in New York, has studied and trained in Japanese traditional dance for many years. She has spent the last ten years in translating rescripting Japanese classical dances in contemporary contexts. Yogoshi's presentation of her work to Nora is also opened to general public, especially interesting for Japanese contemporary dance choreographers and dancers.

[YokoshiArtist's Bio]
Yasuko Yokoshi
was born and raised in Hiroshima, Japan. She currently lives and works in New York City.
Yokoshi's works, which combine different disciplines and mediums, have been presented by Theatre de la Ville in Paris, the Guggenheim Museum, the Whitney Museum of American Art, Massachusetts Museum of Contemporary Art, The Kitchen, Danspace Project, Dance Theater Workshop, the Japan Society, P.S. 122, Portland Institute of Contemporary Art, and others. In July 2011, Yokoshi was appointed as the inaugural Resident Commissioned Artist of New York Live Arts.
Recent awards include a John Simon Guggenheim Fellowship (2009), a Foundation for Contemporary Arts Award (2008), and a BAXTen Award (2007). She is also the recipient of a Creative Capital grant (2002), a New York Foundation for the Arts Artist Fellowship (2004) and two New York Dance and Performance "Bessie" Awards for her choreography of Shuffle (2003) and what we when we (2006).
Yokoshi has given numerous lectures and workshops at schools and universities across the United States. She served as a mentor in the DanceWEB education program at the 2010 ImpulsTanz Festival in Vienna, Austria.